IT Recycling and Disposal
The average lifespan for IT equipment in the UK is 3-4 years. Companies will have suppliers to provide hardware, but what about recycling the old equipment?
Pure Planet Recycling offers a professional IT recycling service to businesses throughout England. This includes items such as computers, laptops and servers. But also Switches, Tape Drives, UPS systems, Cables and all related IT peripherals. We do not need the equipment to be a certain make, age or even to be working. We do not cherry pick the computers or servers from a load. As an ATF (Authorised Treatment Facility) we can take any type of electrical equipment.
We collect from business, education facilities and local authority customers. We handle various types of hardware and provide different solutions. For example, some customers need their IT equipment logging for serial numbers. Others demand on site destruction to any digital media alongside. Whatever you need when disposing of your old IT equipment, we can help.
How Does Our IT Recycling Service Work?
Booking your next disposal of IT equipment is as easy as;

Step 1
You contact us, with photos and listing the IT equipment that you need collecting.

STEP 2
A quotation is then provided for the collection or delivery of your waste.

STEP 3
Once accepted, a collection is arranged using our own secure transportation and staff.

STEP 4

We load the equipment into our vehicles and provide duty of care waste notes.

STEP 5
One back at our treatment facility it is graded, sorted, tested and recycled. Any equipment that could have a second life is reused. All other equipment is recycled to recover the materials..

STEP 6
Once the job is complete, we invoice and provide a recycling certificate for the load.
What IT Equipment Do You Collect?
We can collect and recycle all IT and telecoms equipment, including;
Printers, copiers and plotters.
Keyboards, Mice, Cables etc.
Cameras, webcams and video cameras
Hard drives, media tapes and storage equipment
Laptops, PCs, Servers etc.
Phone Systems and Networking Equipment
Telecoms Recycling
Our Telecoms Recycling service allows for the recycling of all types of hardware. We handle all types of equipment, from a small phone system through to a large telecommunications system. Regardless of make and model of equipment, we can recycle it. We do not even need the equipment to be working.
We also recycle telecom aerials, antennas and site equipment for national telecommunication providers.
Your redundant telecoms equipment is collected and transported back to our recycling facility. We then apply the best recycling practices to equipment. For every collection, we provide the duty of care waste notes. Then once the recycling is complete, we issue a recycling report for your records.
As each collection varies please contact us to discuss your needs.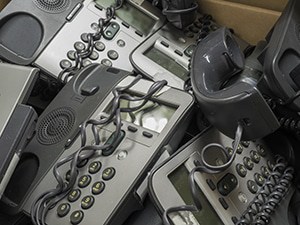 Why Choose Pure Planet Recycling?
Over 16 Years Experience
Nationwide coverage area
Professional and licensed service
Waste paperwork provided
Uniformed, trained staff
Wait and load service option
Equipment reused/recycled where possible
Quick Leadtimes