WEEE RECYCLING SERVICE
Welcome to Pure Planet Recycling, an award-winning WEEE recycling company. We collect and recycle all types of Waste Electrical and Electronic Equipment (WEEE) for businesses.
SAFE AND SECURE
Pure Planet offers a fully licensed recycling service. Our satellite-tracked vehicles, trained staff and secure premises ensure a reliable solution.
STORAGE SOLUTIONS
Safely store your waste electrical equipment. We offer a full range of WEEE recycling containers for hire or purchase.
ISO 14001 CERTIFIED
We hold ISO 14001:2015 certification. We are committed to using a professional approach to reduce our environmental impact.
Pure Planet Recycling offers a 5-star WEEE recycling and disposal service. We simplify disposing of your old electrical equipment while satisfying your legal requirements. We issue a hazardous waste consignment note for each collection to ensure a traceable disposal route.
WEEE
If your equipment uses a plug or battery, we can recycle it. With over 16 years of experience and using best environmental practices, we offer a fully compliant service.
ATF
Our site is an Approved Treatment Facility (ATF) for electrical waste. We hold an Environmental Permit (EPR/AB3101SQ) issued by the Environment Agency.
Collections
We collect waste electrical equipment from across England. Using our vehicles and drivers ensures we provide an excellent service.
Our services cover all types of electrical waste, including computer recycling, data destruction and WEEE collections for businesses.
Don't hesitate to get in touch with us for more information.

36
Years of Waste Management Experience
750000
Light Tubes Recycled
WEEE Recycling FAQ
What Is WEEE?
The acronym WEEE stands for Waste Electrical and Electronic Equipment. WEEE is a blanket term for electrical equipment that is no longer required or faulty beyond repair. It covers equipment powered by a plug or battery. It also includes components used to make electrical equipment.

There are currently ten categories of WEEE;

Large household appliances
Electrical and electronic tools
Toys, leisure and sports equipment
Medical devices
Monitoring and control equipment
Automatic dispensers
Small household appliances
IT and telecommunications equipment
Consumer equipment
Lighting equipment

What is the WEEE Symbol?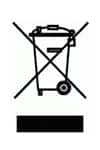 The crossed-out wheelie bin logo appears on any electrical or electronic equipment produced after 13th August 2005. The logo identifies the product as WEEE, so it cannot go into a general waste bin. Instead, you should use a licensed waste management company or household waste recycling site.
Can I throw electrical waste in the bin?
No! Electrical equipment may contain hazardous substances that can pollute the environment or fire risk. You should recycle all electrical waste.

How can I recycle electrical waste from my home?
Most household waste recycling centres have a WEEE bin/skip, and some councils even offer a bulk WEEE collection for residents. From here, they will be sent to a recycling plant to recover the parts/materials they contain.

If your old electrical equipment works, you could list it on Freecycle to give it a new home.

Unfortunately, we do not collect waste from domestic customers. However, the following recycling locator can help you locate your nearest waste site. Enter your postcode and your local recycling location will be displayed.


Thanks to our friends at WRAP/Recycle Now for allowing the use of the recycling locator tool on our site.