Computer
Recycling

and Disposal
Pure Planet Recycling offers a computer recycling service to businesses, education facilities and local authorities. As a licensed Authorised Treatment Facility (ATF), we recycle thousands of PCs and computers.
We offer a secure collection service for old computers and related hardware. Our trained, uniformed staff load the equipment into our own vehicles for treatment at our site.
Our service ensures that your company receives an efficient and cost effective disposal of computer equipment. This includes all types of computers, laptops, and PC's.
We do not require the equipment to be working or a certain age or specification.
We have over 12 years experience, scroll down to see our genuine customer reviews.
Our computer recycling is a simple, step-by-step process:
STEP 1
You contact us detailing the computer waste you have for disposal
STEP 2
We provide you with a quotation for the collection and recycling of your redundant equipment
STEP 3
We arrange to collect the equipment at a convenient time, using our own secure transportation
STEP 4
Upon collection we provide you with the Duty of Care waste paperwork
STEP 5
At our licensed recycling facility we process the equipment ensuring that the best available treatment recovery and recycling techniques are applied
STEP 6
Once the recycling is complete we issue a recycling report and data destruction certificate where necessary.
We take data security very seriously and provide a full data destruction service when recycling your computers. Whether it is the destruction of drives, tapes or CDs and DVDs, we provide a secure and environmentally friendly service. For more information please see our
data destruction
services.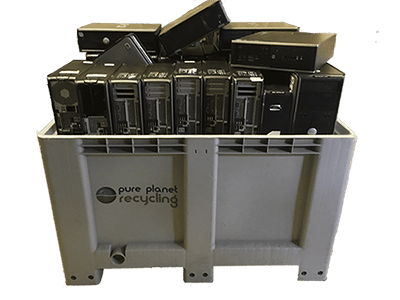 Computer Recycling FAQs
How is a computer recycled?
1. A visual inspection assesses if the computer is complete, undamaged and worth testing further. At this stage any ownership identification labels or markings are removed.
2. Hard drives and removed, scanned and destroyed, via our hard drive shredder.
3. If a computer could have a use, it is fully tested and refurbished. If any faults are found it is graded and assessed to see if it can be repaired.
4. Any computers that are too old or beyond repair are dismantled. We separate the parts: cd drive, power supply, motherboard and cables in order to recycle them. This allows the plastic, ferrous and non-ferrous metals to be recovered.
Do you collect computers from households?
Unfortunately it isn't environmentally friendly or cost effective to collect from householders. We offer a Nationwide collection service for businesses, so collecting one off computers isn't viable.

Please see the domestic electrical waste recycling locator to find a local drop off location.
How much does it cost to recycle computers?
In order to be able to quote for the disposal of computers we need further information. Factors such as age, condition and volume of equipment will affect a quotation. We find our pricing is very competitive in the market compared to like for like secure recycling services.
What is a computer made from?
A computer is made from many reusable materials. So when it is broken down these materials can be recovered and reused in the manufacturing chain. An average pc base unit contains:

Plastic – 25%
Ferrous Metals – 40%
Non-ferrous Metals – 15%
Electronic Boards – 20%
For more information on how to recycle your computers please call us on 01234 315496 to discuss further.