Data Destruction London
Pure Planet Recycling offers data destruction in London to businesses of all sizes. It is vital when disposing of IT equipment that data stored within the device is physically destroyed. We specialise in providing data destruction for all types of IT storage devices, such as hard disks, media tapes, CDs and DVDs.
We offer our data destruction in London to all manner of customers large and small throughout the capital. From solicitors looking to perform hard drive destruction through to large organisations requiring tailor made solutions for all their media, our services satisfy everyone.
Our services include the following:
Secure data destruction, performed by highly trained staff.
Collections made using our satellite tracked vehicles.
Destruction performed either at your premises or within our authorised treatment facility.
Issuing of detailed data destruction certificate upon completion.
All media is 100% recycled after the data is destroyed.
A 5 star service.
What Equipment Do You Destroy?
We can collect and destroy all data bearing devices, including;
How Does Our Data Destruction Service Work?
Booking your next data destruction service is as easy as;

Step 1
You contact us, detailing the number and type of media you have for destruction. Do you need this destroyed on-site or back at our facility?

STEP 2
A quotation is then provided for the destruction of media. This includes the transportation and waste paperwork.

STEP 3
Once accepted, a date is arranged using our own secure transportation and staff

STEP 4
We destroy on-site or securely transport the media back to our site for destruction.

STEP 5
One back at our treatment facility the units are scanned for serial numbers, weighed and destroyed.

STEP 6
Once the destruction job is complete, we invoice and provide a destruction certificate for the load.
Hard Drive Destruction In London
We are often asked "What the best method for hard drive destruction in London?"
There are numerous methods of destruction available, depending on your requirements and the data held on the hard drive. Pure Planet Recycling offers the choice to the customer in how they wish to have their hard drives destroyed either crushing or shredding. Our hard drive destruction in London is truly tailor made to your requirements.
We offer secure collections using our fully trained staff, in our own satellite tracked vehicles. Alternatively we can bring a mobile crusher within our smaller vehicles and crush on site. Due to access restrictions and parking issues, on-site destruction may not always be possible. Upon completion of the hard drive destruction a certificate of destruction is issued and the hard drive recycling process recovers the metal and plastics content.
Read more on each service option available:
hard drive crushing | hard drive shredding
Please call us on 01234 315496 to enquire about our hard drive destruction services.
We also advise reading this article which explains why hard drive destruction is crucial.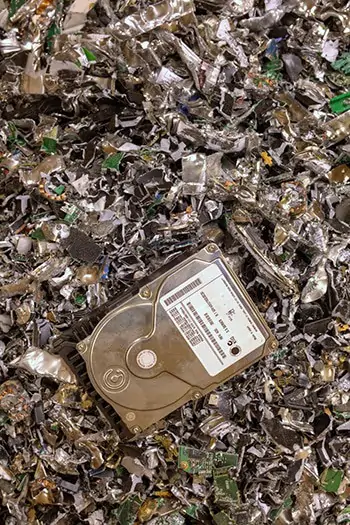 Media & Server Tape Destruction In London
Backup media tapes and server tapes provide the perfect disaster recovery solution, however disposing of them incorrectly is a disaster waiting to happen. As with hard drives, media tapes are usually magnetic storage devices. We prefer to shred media tapes to ensure complete destruction. Due to limited parking in the capital it is easier and cheaper to securely transport the tapes back to our site for shredding.
Once the media tape destruction or server tape destruction has taken place a data destruction certificate is produced.
Read more on our media tape shredding .
Please call us on 01234 315496 to enquire about our media tape destruction in London.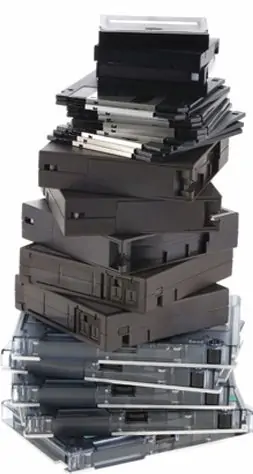 CD/DVD Destruction in London
Pure Planet Recycling's offers both CD and DVD destruction for businesses in London. We shred the CD/DVD to pieces within our media shredder. This ensures complete destruction of the information held on the device.
Upon completion of the CD/DVD shredding we complete a data destruction certificate and then the DVD or CD, case and paper are then recycled.
If you require more information on our CD/DVD destruction in London services please contact us.