Yesterday Apple held its Spring Product Launch. Whilst we heard details of a new iPhone and iPad model, we also got the chance to meet Liam, their latest recruit. Liam is a robot and has one job – to disassemble old iPhones for recycling. He has 29 robotic arms and, whilst he could give one hell of a hug, he can tear down an old phone in 11 seconds. While this doesn't sound much, it equates to 1.2 million iPhones a year, from just one robot.
Liam was born out of a need to address a growing problem for precisely de-constructing small consumer electronics. Traditional methods involve shredding and separation techniques. However, Liam uses robotic precision to separate individual components of the iPhone. The battery, sim card trays, screws, battery and camera are carefully removed and segregated to allow for the materials to be harvested for reuse. Valuable nickel, copper, aluminium, cobalt and tungsten can be reused in manufacturing once processed, instead of virgin materials.
Liam is unproven on a large recycling scale but Apple hopes its competitors will copy the recycling task he performs. We think Liam is a good idea and hope it develops into more companies following Apple's responsible recycling targets.
Comparing Liam VS EDD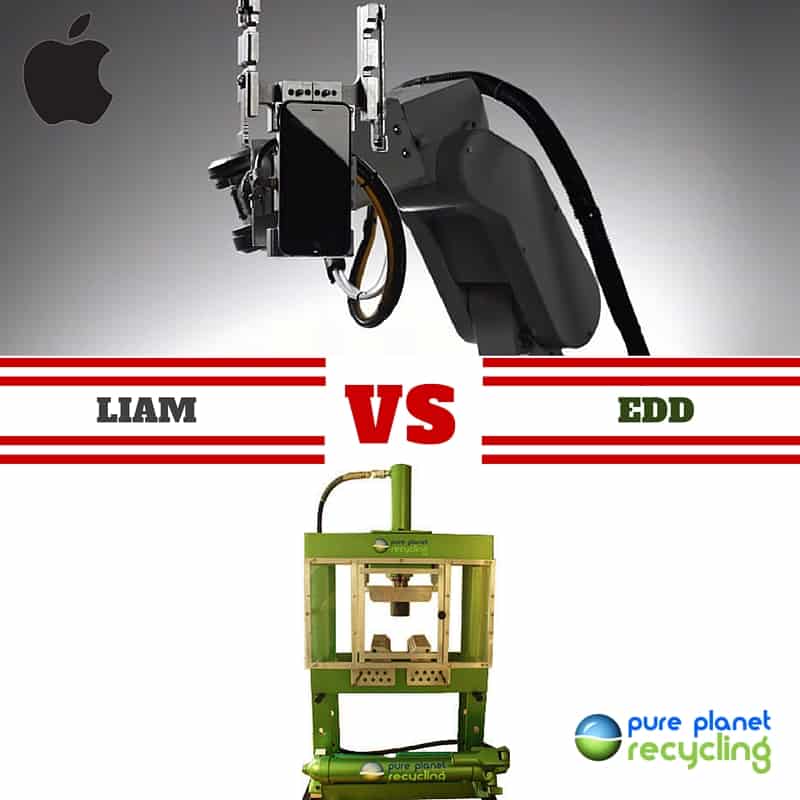 Back in 2011, Pure Planet Recycling launched their Eco Drive Destroyer (EDD) to the world. Now, admittedly we didn't have a global press launch, it was more of a small scale affair, Meet EDD. After seeing Apple's launch of Liam, we thought we'd compare an expensive recycling robot to a good, old fashioned destruction press we developed in house.
EDD's job description contains one line: To destroy equipment that holds data. This includes all types and makes of hard drives, memory sticks, mobile phones, data tapes, etc. He begins work at 9, doesn't take a lunch and, most importantly, doesn't need power. On an average day, he gets variety in his role and finds that breaking up all different types of equipment gives him job satisfaction.
Let's look at the pros and cons of Liam VS EDD;
Liam Pros
He can dismantle an iPhone in 11 seconds
An iPhone is broken down into its key parts for easy recycling
Liam Cons
He's allergic to other manufacturers' phones
Liam can only precisely dismantle, he wouldn't win a destruction contest
Electricity is required
EDD Pros
He likes to break things
EDD can destroy a Nokia 3210 in 5 seconds
He does not pick and choose manufacturers, makes or models
No electricity is required
EDD Cons
Careful dismantling is not his forte
He only has one arm
We commend Apple for their latest recruit and hope he inspires other manufacturers to develop scalable recycling technology that can precisely break down their products for easy recycling. We'd like to give Liam a 29 arm robotic high five for his efforts. 🙂
To see Liam in action, please watch the following video on Apple's youtube channel;
If you enjoyed reading this blog post please share with others: