Do you remember what you were doing in 2007? We do. In the year Steve Jobs unveiled the first Apple iPhone, the UK smoking ban kicked in and pretty much everyone we knew signed up to Facebook, we were busy setting up a business called Pure Planet Recycling.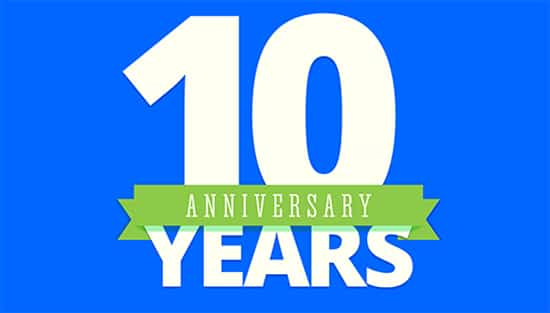 That's right – it's been a whole ten years since we first started offering Waste Electronic Electrical Equipment (WEEE) recycling solutions in our home town of Bedford. We began working with local businesses, offering computer recycling, data destruction and fridge/freezer recycling close to home. But, as demand for collections of electrical waste grew, so did our coverage area, and we soon found ourselves branching further and further out.
Of course, we've had a fair few memorable moments along the way. There was the time we let the team from Channel 4's Obsessive Compulsive Cleaners loose on our 'fridge graveyard', for one. And recycling a consignment of hoverboards will always be filed under 'Not Your Average Day At The Office'.  
But 2017 is the year that will go down in Pure Planet history, as we can officially announce that we now offer a nationwide service across the UK. It comes just as we celebrate ten years in business, so it's safe to say we'll be cracking open a bottle of fizz or two.
Pure Planet Recycling: A nationwide WEEE collection service
Going national was a natural expansion for us – our customers often have several sites in various locations, so this move means we can be completely flexible with collections. Click on the service regions tab of the website and you'll see the full list of areas we now operate to, from South East England to Yorkshire and Humberside.
Responsible recycling is what we're all about, so we've implemented some changes along the way to make this all possible. Using satellite-tracked vehicles alongside a routing system to manage the collection schedule, for example, helps to reduce our environmental impact. And backhaul logistics on bulk loads takes efficiency a step further, and also helps to reduce costs.
Our ISO 14001:2015 certification (and what it actually means)
Most recently, our commitment to the environment was recognised within the industry, when Pure Planet Recycling was awarded ISO 14001:2015 certification through SIRA. It's not the catchiest of names, granted, but it basically means our customers are in the safest hands possible, and it's a nod to our environmental management system and testament to our professional approach.
Speaking of which, the last ten years wouldn't have been possible without our incredible team and our brilliant customers, who are all 100% committed to responsible recycling. As always, get in touch if you'd like to discuss WEEE solutions for your business or hear what our customers are saying about us. Our strapline is pretty simple: 'if your equipment uses a plug or battery, we can recycle it', and there's more about what we do over on our services page.
For now though, we hope you'll join us as we raise a glass to celebrate ten years of success, and look forward to another ten in the making. Who knows what 2027 will bring, but we'll be using the iPhone 101 by then!