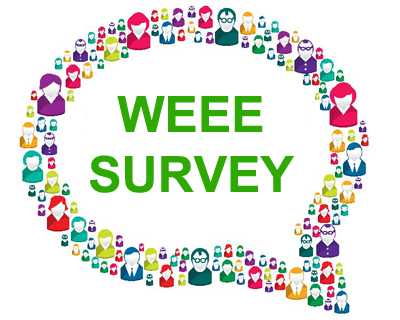 The Recycling Electrical Producers' Industry Consortium (REPIC), is the largest WEEE producer compliance scheme in the UK. Their WEEE members represent approximately half by weight of all electrical and electronic products sold in the UK every year. A recent survey by REPIC has revealed that one in five people regularly throw old and used electrical items such as radios, kettles, mobile phones, irons and hair dryers into their general waste bin. This statistic is frightening to the ears of all at Pure Planet Recycling.
Across the country the majority of people dutifully put out their orange recycling bin or sacks ready for collection having diligently washed out yoghurt pots, stored newspapers, tin cans and plastic bottles. But what happens to that other 'stuff' we aren't sure what to do with. How many times have you asked the question 'Do you think I can put this in the bin?' to your other half and deliberated for a good 15 minutes about whether the recycling police might come after you if they find it. REPIC's survey says that 53% of us don't know what to do with these items but perhaps more positively the other half of us want to know more about recycling.
We've become much better at sorting our waste in recent years. When it came to recycling familiar household items the survey found that over 80% of people always recycle paper, cardboard, tins and bottles and 63% recycle kitchen and garden waste. The figures dropped right off for electricals though, with just 46% of respondents saying they always recycled them.
Dr Philip Morton, chief executive of REPIC said: "Overall the survey findings are very encouraging. There are plenty of good intentions and the majority of people are keen to find out which electrical products can be recycled and how they should be disposed of. It's also great to see that young people in particular are curious to find out more. It is clear that consumer awareness is the key to improved collection volumes. Most people want to "do the right thing" all they need is the right information."
Pure Planet Recycling Director, Phil Gibbs, added: "Hopefully with continued education from national campaigns such as Recycle Now, the UK can improve on the findings of the REPIC survey. Electrical items, especially older, non-working items are easily seen as waste… but they are good recyclable items containing reusable materials. Simply taking them with you next time you are at the recycling centre will make a big difference to recycling rates and give you that good feeling knowing you've helped the environment."
There are lots of options for recycling your waste electrical items. You can make a little bit of money back when you recycle your mobile phone on-line, or you could find time out of your day to take larger items like TV sets or smaller household appliances to your local waste recycling centre. Or, even better, if you are a business that has redundant computers, hard drives, servers, fridges, freezers you can contact us and we can do all the hard work for you!