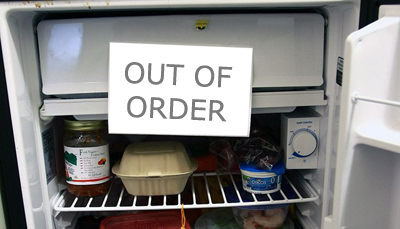 Are you are all basking in the beautiful summer sunshine we have at the moment? Perhaps not! But, hopefully it will soon be on its way and your staff will be bringing in their fresh fruit, smoothies and iced drinks to keep them cool throughout the working day. That is until your staff room fridge decides to give up the ghost on the hottest day of the year. Or perhaps you own a popular local restaurant with enough ice cream to feed the entire town – until suddenly it's melting before your very eyes! You then find yourself in a position where you need to dispose of your old fridge to make room for a shiny new one, and that's where we step in!
We provide a fridge recycling service to our business customers. Your standard fridge might look completely innocuous but in fact they contain hazardous components which need careful, specialist treatment when they are recycled. There are only a handful of specialist companies licensed to recycle refrigeration units due to recent changes in the law. We work in partnership with one of these companies who follow the strict procedures to ensure all the hazardous components are removed and treated in the correct way.
Have you ever wondered what happens to fridges when they come to the end of their useful life? Did you know that there are harmful gases inside?
Firstly the fridges are emptied of any food, trays and shelves contained within. The compressor, and pipes on the rear of the unit are also removed at this stage.
The pipe work that has been removed is processed to remove the refrigerant gases.
The insulation foam is stripped from the device with the use of machinery that breaks the item into small pieces.
These pieces are then separated into the different materials of plastic, metal, cable and insulation foam.
The plastic, metal and cable are then used as materials for reuse in the manufacturing chain of new goods.
The only part of the fridge that cannot be recycled as a material is the insulation foam. This is sent to an 'Energy From Waste' facility in order to create Electricity.
The way in which fridges are recycled allows for maximum recovery recycling rates whilst still maintaining best recycling practice. Using our own vehicles, Pure Planet Recycling collect domestic and industrial sized fridges, freezers and air conditioning units. As we are an Authorised Treatment Facility (ATF) for electrical waste and all types of electrical equipment you can be sure of a compliant and legal recycling service which provides all the necessary Hazardous Waste paperwork – giving you a traceable and 'audit friendly' service for any items you recycle with us.
The great thing about recycling your equipment is that so much of it can be re-used and go back into the manufacturing chain or even turned into something completely new like the electricity we talked about above. So if you want to purchase new white goods have a chat with us first about how we can dispose of your old items in a way that gives you total peace of mind.