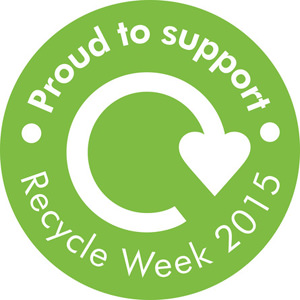 An exciting annual event for anyone interested in recycling or waste management is fast approaching! From 22-28 June it is Recycle Week and this year the theme is 'Recycling around the home' – designed to encourage us all to open our eyes to what we might be able to reuse or recycle.
Generally, in the UK, we are pretty good at recycling. So, all of you who religiously wash out your yoghurt pots and foil dishes for the orange bin collection can give yourselves a pat on the back – you are part of the 44% of waste we recycle by household. The EU target for the UK's household generated waste is 50% by 2020 so we aren't doing half bad.
But, as my school reports frequently said, we could do better. It isn't just about the yoghurt pots. Recycle Week is a celebration of everything to do with recycling. It is meant to spark our interest and reignite our passion for doing our little bit for the planet. The event is organised by WRAP, a charity whose vision is a world in which resources are used sustainably. Now in its 12th year under the 'Recycle Now' brand the project is delivered to the public in partnership with local authorities, retailers, brands, schools, businesses and community groups.
There are so many ways to get involved. There will be lots of fun events happening during Recycle Week. You can take a look at the Recycle Now Facebook page to get lots of tips and ideas for items to recycle that you might not have already thought of. Did you know you could recycle batteries? Or your glasses that you can't quite see out of anymore? Take a look around the room as you read this and have a think about what you might be able to reuse or recycle. We bet you quickly find five things you hadn't thought of.
Of course you don't have to send your old things off to the recycling plant to find a new use. You can reuse lots of things at home. Old egg boxes and cardboard tubes make great projects for imaginative children or for those of you who like gardening why not use your old wellies to make fun planters for summer time blooms – its just about thinking outside of the box a little and having fun!
Recycling, like any other household chore can be boring. It might even feel like a nuisance. But it is our duty to sort our waste responsibly. By taking part in Recycle Week and recycling in general you are promoting a better, cleaner and healthier environment for you and your family.
As Margaret Mead, the famous anthropologist said:
Never doubt that a small group of thoughtful, committed citizens can change the world; indeed, it's the only thing that ever has.
So, Pure Planet Recycling want you to join in where you can and commit to doing one tiny thing that just might help change the world.
Look out next week for our 'Recycling Around the home tips' with advice included from none other than Max McMurdo, upcycler extraordinaire, to give you some more ideas!