If you've reading this on a desktop, you'll see there's a 'Reviews' tab on the right of your screen. Click to expand it and this unassuming green tab is actually one of the most important things you'll find on our website. (Mobile users – see our feedback page)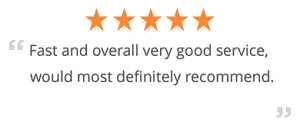 This is where we collate all our customer reviews – 302 and counting at the time of writing – and they're right at the centre of everything we do.
Why do we collect reviews?
Customer feedback is crucial when it comes to finding a local business using the internet. For starters, research shows that 97% of consumers looked online for local businesses in 2017, and that 85% of people trust online reviews as much as personal recommendations from friends.
Not only that, but the statistics show the average consumer reads seven reviews before trusting a business. In an industry like ours, where customers rely on us to destroy sensitive data – those reviews matter even more.
By displaying all our reviews in a transparent way, we're able to show prospective customers what our existing clients think of our services. We don't filter out negative feedback, and we're as proud of our four-star reviews as we are our five-stars. This is because feedback allows us to improve on our processes and strive for excellence across all services. In a nutshell, it's the best way to keep track of how we're doing according to the people who matter the most.
Are our customer reviews genuine?
In a word, YES. Every review you see on the site comes straight from the horse's mouth, so to speak. From large corporations to startups, and schools to universities, everyone gets their say. The review process is independent and each customer is verified from our order process. Not only that, but every single one of the reviews is read by us as it is left. As a local business it means a lot to us to read how much our customers trust the Pure Planet brand, and we're proud of our five-star average rating.
If you want to have a read of our latest reviews, click the tab and see what our customers are saying about us. And if you're a Pure Planet customer, don't forget to drop us a quick review when you get a minute and let us know how our service worked for you.