Are You Ready For 1st April?
The chances are that many, if not most hazardous waste producers and the companies they use for recycling are unaware of the big changes happening on 1st April, 2016.

Following discussions with the Environment Agency, they have confirmed to us that the regulations are changing for premises in England from that date. This has both financial and logistical implications for all involved, without a lot of time to prepare. So what is changing and how might it affect you?
Firstly, let's have a look at what happens now. Currently, any site that has 500kg or more of hazardous waste produced at, collected or removed from the premises in a 12 month period must register with the EA. This costs either £18 if registering online, £23 by phone or £28 by post. The EA then issues a unique registration number which is used by them, in conjunction with consignee returns, to track movements of hazardous waste and to help plan compliance activities.
However, as from 1st April this year, registration will no longer be required although you will be legally bound to register up to that date. Consignment notes will still have to be raised as before but instead of the unique premises code, each note will have to show the first six characters of the hazardous waste producer's name, followed by a unique five character reference (as pictured below). There are also some changes to the SIC code requirements. From 1st April, you will have to use SIC 2007 instead of SIC 2003 codes although the use of NACE codes will still be allowed.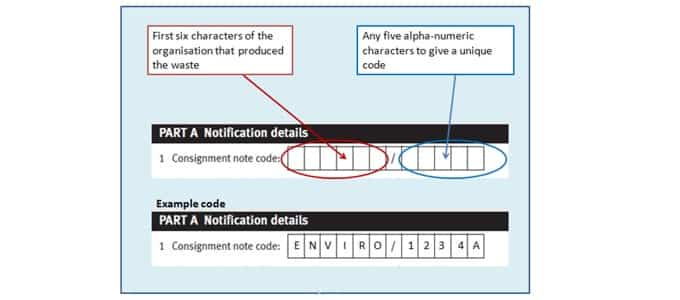 Hazardous waste registrations are valid for 12 months. So, what if your site would normally have registered as a producer of 500kg or more of hazardous waste in 2016 but won't have that amount by the time the regulations change?
The EA says this: "If your registration lapses before 1 April 2016, and the premises would not have produced 500kg or more in the 12 months up to 31 March 2016, then that premises does not need to be registered. Conversely, any premise that produces 500 kg or more of hazardous waste between 1 April 2015 and 31 March 2016 should be registered during this time." That will involve some careful calculations for all concerned.
So theoretically, if your current hazardous waste registration expires between now and 1st April, you should only need to re-register if you will produce 500kg or more of haz waste in that period. If not, you should be able to operate under an exemption for that time.
These new rules only apply to England so if you are bringing waste out of Wales, Scotland or Northern Ireland, the existing rules of those territories will still apply. But if you are taking haz waste to there from England, it will be under the new EA regulations.
This is all happening because of the government's Strategic Smarter Environmental Regulation Review, otherwise known as the Red Tape Challenge. The Environment Agency tell us that they are currently in the process of e-mailing all of England's registered hazardous waste producers to tell them about the changes.
If you need to find out more about the upcoming changes, you can call the EA's National Customer Contact Centre (NCCC), either by e-mail to enquiries@environment-agency.gov.uk or by phone on 03708 506 506.