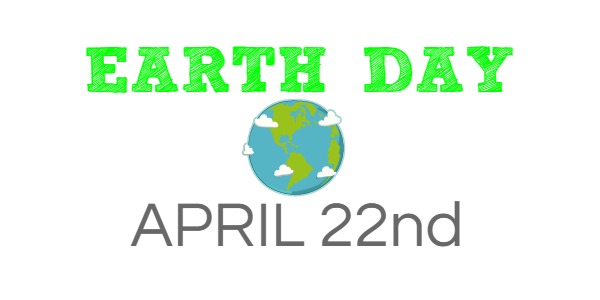 April 22nd marks the environmental celebration of Earth Day! Congratulations, we've kept the planet going for another year and it is time to show support for all the things the environmentally conscious do to protect our world.
Long gone is the hippie-go-lucky first ever earth day which took place in 1970 across the United States. More than 20 million Americans came together to take part in peaceful demonstrations to push for environmental reform. These people, from communities, schools, colleges and universities all believed passionately that we needed to protect our planet from future harm and that we have a responsibility to future generations to maintain our environment. Now, 45 years later, it is celebrated in 192 countries by more than a billion people – all bought together by the non-profit organisation 'Earth Day Network'.
The Earth Day 20th anniversary in 1990 had a far improved outreach to local, national and international communities. They were armed with superior marketing and access to TV advertising (and of course much higher budget). One of the most notable Earth Day 20 events was an International Peace Climb. The team climbed Mount Everest and collected more than 2 tonnes of rubbish, left by previous climbers, to recycle.
Of course, it isn't just our littering that needs to be managed. With technology advancing at a faster rate than ever our WEEE (Waste electrical and electronic equipment) is outdated sooner and the incorrect disposal of this e-waste is harming our environment. Many of the components in our phones, monitors or laptops contain hazardous materials, which need careful and responsible recycling. Often these electronic devices end up in landfill or incinerated. Nobody wants these chemicals in their water supply so it is vital that you dispose of domestic or business waste in the right way.
There are lots of environmental events organised for Earth Day. From expressing your environmental self at a festival, to simply logging on-line and pledging to reduce your energy consumption, you can find a way to take part. In fact, you can help the Earth Network reach its goal of 'A billion acts of Green' by registering your act on-line on the Earth Day website. It's the biggest environmental campaign in the world and it's building all the time thanks to all of you committed people, corporations and politicians who believe that protecting our environment should be at the top of our priority list.
If you are part of a company that has an environmental strategy or simply wants to increase the amount of waste you recycle, Pure Planet Recycling can help you achieve your own waste management goals. Our skilled team can advise you on the best way to recycle. We provide you with a full audit trail so you have peace of mind that your waste has been disposed of responsibly – which after all is what Earth Day is all about.