Nokero, the worlds only solar powered light bulb company, have announced their latest solar powered bulb, the N200. The target audience for such a product is the billions of people across the world who live without access to a reliable source of electricity.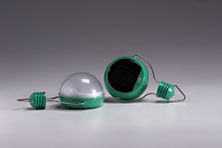 The product is aimed at replacing the fuel based lighting products which are both harmful and environmentally damaging. More than 1 million people die each year in fuel based lighting fires and an estimated 1.6 million die from indoor air pollution. Nokero founder Steve Katsaros states "In this day and age, there's no reason that should happen. We have the technology and know-how to solve this problem."
The N200 is a development of the N100 launched in June 2010, using similar charge by day use by night technology. The N200 uses a single solar panel which charges a single Nickel-metal hydride battery to provide the power to the bulb when required. The development of the product sees an increase to 6 hours plus usage on a low setting and 2.5 on its high setting. With over 50,000 units of the N100 sold to date, the N200 looks set to be a very useful and successful product too. Both products feature an automatic shut off when bright light is detected, an on-off switch and are rain proof.
Here at Pure Planet Recycling, we welcome such products for both their green attributes and the fact that the products will save lives. For more information regarding the N100/N200 products, please visit the Nokero website.
Pure Planet Recycling offer businesses a fluorescent light tube recycling service in order to safely and environmentally dispose of redundant bulbs and tubes.