Meet The Directors Of Pure Planet Recycling
Pure Planet Recycling Limited was established by the following two directors:
Paul Turbutt – Co Owner & Director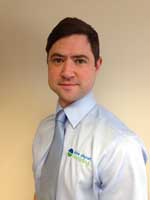 Paul has worked in waste management since 1994. With diverse experience working throughout the industry Paul has in-depth knowledge of best practice and has keen grasp of new recycling schemes and current legislation.
Using this experience along with a drive for success Paul had a vision of a recycling company with high levels of customer service and a friendly face. It was then Paul decided to plan such a business whilst commuting to work on the train.
Paul is now responsible for the day to day sales activity within the company, Paul enjoys networking and building long term business relationships with local and national businesses.
Phil Gibbs – Co Owner & Director
Phil has over 10 years experience within the IT and Waste Management Industries. After Paul initially pitched the business idea, Phil could see the potential and the niche within the Industry. Planning began on how the business would operate and the services that would be offered. After much brainstorming, Phil, thought of the name Pure Planet Recycling and the brand was born.
Phil has been responsible for the day to day operations and material movements in and out of the recycling site since the start of the business. Due to the growth of the company and now, with more staff in the team, Phil has the time to manage the website/online marketing and focus on business growth.