Free Hard Drive Destruction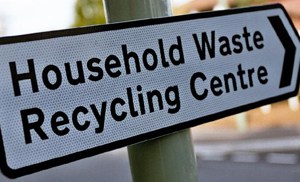 How much personal information is held on your PC or Laptop? If you do not destroy this information before you recycle it, you leave yourself open to identity theft. In order to solve this problem, Pure Planet Recycling offer the general public a free hard drive destruction service. This is for householders that want to recycle their old IT equipment at the Household Waste Recycling Centre but do not destroy their data beforehand.
If you do not know how to permanently remove data or have a broken hard drive (also known as a hard disk), our service is for you. We physically break the drive and recycle it to recover the component materials. This ensures data cannot be recovered from your hard drive, protecting your information – and for free.
For business customers please see our data destruction services.
How Our Service Works
Our free hard disk destruction service is simple, effective and easy to use. Simply follow the steps below to arrange the destruction of your drive;
Fill out the form at the bottom of this page to book in your destruction. This will then give you the address label to print.
Remove the hard drive from your computer or laptop. You may need a screwdriver to open your computer. If you need further advice, we suggest that you search your computer make and model, as well as the location of the hard disk, online. There may also be videos on YouTube showing how to remove your hard drive. It will look like one of those in the pictures below:

Place the hard disk into an envelope or box and put the address label onto it.
Ship the drive to the address using a recorded delivery service such as Parcel Force from your local Post Office.
Once we receive your drive, we destroy it and certify the destruction to your email address.
With your data safe, you are now free to reuse or recycle your computer equipment.
Alternatively if you live near Bedford, you are welcome to drop off your hard drives and equipment free of charge.
Book Your Hard Drive Destruction
Don't leave your data security to chance, fill out the following form and book your hard drive destruction. Peace of mind, fee of charge.
**Please note we have suspended our free hard drive service whilst we are in the COVID-19 shutdown period. Please check back here once the government have advised it is safe to return to work.